In a grocery store filled with processed foods, most of which contain high fructose corn syrup (HFCS), it's sometimes difficult to find kids' snack that don't contain it.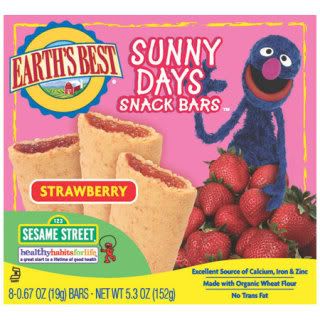 Earth's Best Sunny Days Snack Bars come in apple and strawberry. I purchased them at Toys 'R Us, where a box of 8 was $2.79. That's only 35 cents per bar, not bad. I think that's the cheapest I've seen them.
They are similar to Nutri-Grain bars, but they are smaller and have just the right number of carbs for a snack (14gC). When Q was in kindergarten I kept boxes of these at school so she could grab one on her way to PE. Now that she's a little older, she doesn't want snack with Sesame Street characters on them. You can also find them packaged as "Kidz Organic Whole Grain Bars," which do not have characters on the box.
I'm always on the hunt for new snack ideas. What are your kids' fave things to munch on?
(These opinions are my own and I have no relationship with Earth's Best.)